News
- Sales
December 12, 2018
---
Archive Sales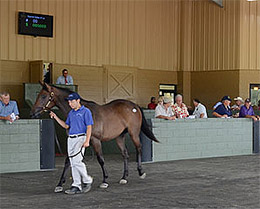 ©  Equine Sales Co.

OPELOUSAS, LA—NOVEMBER 17, 2018—
It was a gorgeous autumn day in the Bayou state today (Nov. 17), providing an appropriate atmosphere for buyers to inspect and consignors to show their horses entered in the LQHBA Fall Mixed Sale in Opelousas.
LQHBA cataloged 211 head, up slightly from the 185 entered in 2017, however there were 41 Outs. Buyers were more interested in getting their last chance for a Louisiana-Bred yearling with the top 10 sellers all foals of 2017. Last year's numbers were bolstered by several broodmares in the top-ten included the two high-sellers.
The sale reported 133 head of 170 offered grossed $492,10


Read More ...
---