Today's Headlines
December 8, 2019
---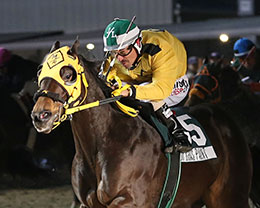 © Coady Photography

OPELOUSAS, LA—DECEMBER 7, 2019—
Evangeline Downs hosted the richest race in all of Louisiana Quarter Horse racing on Saturday night with the $1,000,000 LQHBA Louisiana Million (RG1).
Trainer Miguel Rodriguez had qualified the fastest qualifier for the final tonight with Special Politico, however, it was his second entrant Mardi Gras Paint who got the glory, winning by a half-length in a final time of :


Read More ...
---
---


LQHBA Insider -

FULL STEAM AHEAD FOR NO FREIGHT IN THE LQHBA LOUISIANA MILLION
It's hard to sum up the range of emotions that surround preparing for the LQHBA Louisiana Million, the richest Louisiana futurity. For a breeder to see the birth of a foal and the transformation to racehorse; for an owner who studied pedigrees of hundreds of yearlings before writing a check; for the trainer who oversees each step of the development and finally, the jockey who is entrusted in guiding his mount to the wire of the major championship.
The storylines are plentiful; the December "Insider" focuses on the team behind No Freight, who drew the far outside post under jockey Benito
Stallions Spotlight
Search Stallions

Need a 2019 LQHBA Fall Mixed Sale Catalog?