Today's Headlines
January 23, 2020
---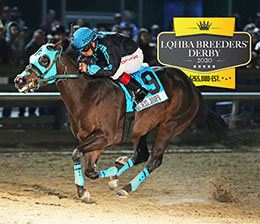 © Coady Photography

ALEXANDRIA, LA—JANUARY 22, 2020—
Nominations for the 2020 $265,000-est. LQHBA Breeders' Derby, to be contested at Evangeline Downs, are due on or before Saturday, February 1.
Accredited Louisiana-Bred foals of 2017 who were eligible and made the final entry payment for the 2019 LQHBA Louisiana Million Futurity must nominate on or before February 1st for $300.
Horses that were nominated to the


Read More ...
---
---


LQHBA Insider -

YOUNG TRAINERS START THE NEW YEAR WITH FIRST STAKES SCORES
It was a very memorable start of the Harrah's Louisiana Downs Quarter Horse meet for two young trainers on Saturday, January 4. Ray Mayo and Jose Carrizales both scored their first career stakes victory, saddling the winners of the $15,000 Harrah's Dash, which was split into two divisions on the opening day card.
Ray Mayo
Ray Mayo rode professionally for 9 ˝ years and was one of the most respected 870-yard riders in the region. At the urging of his family, he retired from the saddle and began training three years ago.
In the second division of the Harrah's Dash, Mayo,33
Stallions Spotlight
Search Stallions

Need a 2019 LQHBA Fall Mixed Sale Catalog?