Today's Headlines
September 29, 2016
---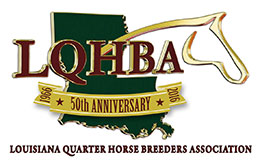 ALEXANDRIA, LA—SEPTEMBER 27, 2016—
The Louisiana Quarter Horse Breeders' Association (LQHBA) will conduct their regularly scheduled board meeting on Wednesday, October 5th.
Set for 10:30 a.m., the group will meet in the "pre-function room" (Event Center) at Evangeline Downs in Opelousas. The LQHBA office in Alexandria will be closed that day.
Following the conclusion of the board meeting (approximately 3 pm) the association will hold an "open forum" to discuss the future of the LQHBA yearling sale. Everyone is invited to attend.
"We really hope to have quite a few LQHBA Members present for the yearling sale discussion," LQHBA Executive Director Tony Patterson


Read More ...
---
---


LQHBA Insider -

MOTHER NATURE HAS CHALLENGED LOUISIANA HORSEMEN IN 2016
Let's face it; Mother Nature has not been kind to Louisiana! An astounding 28 tropical storms or hurricanes have caused major damage to the state since 2000, and not just the Gulf Coast region.
It has been a very tough year in regards to the weather in Louisiana. Members of the racing community have been tested multiple times in 2016, beginning with the March flooding in the Bossier City area.
But this special group of individuals don't let it get them down; they band together to overcome the many challenges Mother Nature presents.
Evacuation at Louisiana Downs in Mar
| | | |
| --- | --- | --- |
| Stallions Spotlight | | Search Stallions |
| | | |