News
- Headlines
December 8, 2023
---
Louisiana Champions Day Set December 16, Entries Close Monday, November 27
Entries close Monday, November 27, for the 2023 Louisiana Champions Day Stakes races to be run at Evangeline Downs December 16.

© Coady Photography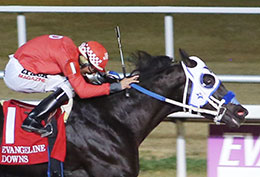 OPELOUSAS, LA–NOVEMBER 10, 2023— Accredited Louisiana-Bred Quarter Horses will participate in three stakes races on Saturday, December 16th as part of the annual Louisiana Festival of Racing at Evangeline Downs in Opelousas.
Nominations close Monday, November 27. Horsemen and women wanting to enter must have the $400 nomination fee and nomination form into the LQHBA office, 105 Carlyon Lane, Alexandria, Louisiana 71303-7788, on or before November 27.
Quarter Horse races slated on the December 16th race card include:
• Louisiana Champions Day Juvenile (RG2)
2YO's 350 yards $100,000 Guaranteed
• Louisiana Champions Day Derby (RG3)
3 YO's 400 yards $100,000 Guaranteed
• Louisiana Champions Day Classic (RG2)
4 YO's & Up 440 yards $100,000 Guaranteed
The entry fee of $600 must be on deposit at the EVD Horsemen's Bookkeeper prior entry. Nomination and entry fees will be refunded if the horse does not draw into the race.
CLICK HERE for nomination forms.
Preference for each of the three races will be determined by 2023 earnings, through and including November 26th, as verified by the American Quarter Horse Association.
For more information visit the association's website at lqhba.com or call (318) 487-9506.