News
- Headlines
December 8, 2023
---
Louisiana Downs Announces 2024 Quarter Horse Stakes Schedule
The 2024 Mardi Gras Futurity(RG2), with an estimated purse of $600,000, highlights the 41-Day Live Racing Season at Louisiana Downs.

© Ann Switalski Photography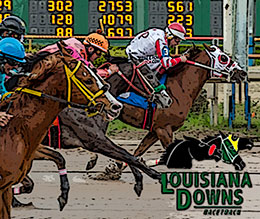 BOSSIER CITY, LA–NOVEMBER 9, 2023–The 2024 Quarter Horse Louisiana Downs live racing season will get underway on Tuesday, January 9.
The 41-day meet will conclude on Saturday, March 30. Live racing will be conducted Tuesday, Wednesday and Thursday in January and February with Wednesday through Saturday programs in March. Post time will be 1:05 p.m. (Central).
A blockbuster day will close out the annual live Quarter Horse racing season with the final of the Mardi Gras Futurity(RG2) as well as the Louisiana Downs Futurity(G2) on Saturday, March 30. The purse for the Mardi Gras Futurity, the first official futurity of the year, will boast a notable increase with an estimated final of $600,000. Last year's winner San Lorenzo Blood triumphed in the $365,080 Mardi Gras Futurity(RG2) for owner Rogelio Marquez, Jr. and breeder Slash Z Quarter Horses.
Matt Crawford is the racing secretary for the Bossier City racetrack and looks forward to hosting nine stakes, including the Mardi Gras Futurity, Mardi Gras Derby, Louisiana Downs Futurity and the Mardi Gras Oaks, now in its second running.
"We look forward to an excellent Quarter Horse season and rewarding the qualifiers for the Mardi Gras Futurity with an unprecedented purse," said Crawford. "The Mardi Gras Oaks and the Mardi Derby will run on March 29 with an exciting day for 2-year-olds as we crown two champions on Saturday, March 30."
Stall applications are due by Monday, November 27 and the barn area will open on Saturday, December 10. Nomination forms are available at the Louisiana Downs racing office or by contacting Matt Crawford at 318-741-2511 or assistant racing secretary Tammy Peck at 318-752-6453. Nomination forms and stall applications are posted on the Louisiana Downs website or you can download by CLICKING HERE.
For more information on upcoming events, simulcasting, casino and food and beverage options, visit ladowns.com.
Louisiana Downs 2024 Quarter Horse Stakes Schedule
>February 8 $30,000 Billy Montgomery 4YO & up F&M LA-bred 330 YDS
>February 28 $30,000 Mr Jess Perry (RG3) 4YO & up LA-bred 350 YDS
>March 16 $30,000 Lip Chip LLC 3 YO & up 400 YDS
>March 23 $150,000-est. LAD Maiden Classic 3YO & up 350 YDS
>March 28 $30,000 Winner's Circle Church 4YO & up LA-bred 350 YDS
>March 29 $100,000-est. Mardi Gras Derby 3YO LA-Bred 400 YDS
$100,000-est. Mardi Gras Oaks YO LA-Bred Fillies 400 YDS
>March 30 $600,000-est. Mardi Gras Futurity(RG2) 2 YO LA-Bred 300YDS
$250,000-est. Louisiana Downs Futurity(RG2) 2YO 300 YDS
*NEGATIVE HAIR TEST WILL BE REQUIRED FOR ALL STAKES AND FINALS
**2 YEAR OLDS COMPETING IN SCHOOLING RACES MUST BE MICROCHIPPED FOR IDENTIFICATION PURPOSES*
2024 Quarter Horse Trial Dates
> February 29 Louisiana Downs Maiden Classic
> March 6 Mardi Gras Derby/ Mardi Gras Oaks
> March 7 Louisiana Downs Futurity
> March 8 & 9 Mardi Gras Futurity
2024 Schooling Race Dates
> February 9 Louisiana Downs Futurity
> February 10 Mardi Gras Futurity
* * * * * * * * * * * * * * * * * *
About Louisiana Downs
Located near Shreveport in Bossier City, Louisiana, Louisiana Downs opened in 1974 and is now owned by Rubico Acquisition Corporation. With annual Thoroughbred and Quarter Horse racing seasons, the track is committed to presenting the highest quality racing programs paired with its 150,000 square foot entertainment complex offering casino gambling, dining and plasma screen televisions for sports and simulcast racing.