News
- Headlines
December 8, 2023
---
Nominations For 2023 Mardi Gras Futurity Due Tuesday, November 15
Nominations are due Tuesday, November 15, for the $400,000-est. Mardi Gras Futurity(RG2) to be contested at Louisiana Downs in March 2023.

© Lou Hodges Photography / Ann Switalski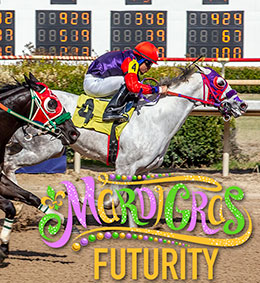 ALEXANDRIA, LA–NOVEMBER 8, 2022–Nominations for the 2023 300 yard $400,000-est. Mardi Gras Futurity(RG2) are due Tuesday, November 15, 2022.
Trials $100,000-added race for 2-year-old Louisiana-breds are set March3 and 4 and the final will run back on March 25.
The 2022 Mardi Gras Futurity (RG2) had a record purse of $394,690
CLICK HERE to download a Mardi Gras Futurity nomination form:
Nomination and Payment Schedule:
• $300 Nomination due November 15, 2022
• $400 2nd Payment due on or before December 15, 2022
• $500 to Enter Trials
Supplemental Nominations will be accepted upon payment of regular nomination and sustaining fees as follows: $300 Nomination+$400 Second Payment+$1,000 penalty due on or before Wednesday, January 04, 2023. Total $1,700.
Late Supplement at time of entry $6,000 all fees included.

Please send payments via trackable mail (Certified Mail or FedEx for your protection) to:
LQHBA
105 Carlyon Lane
Alexandria, LA 71303
For additional information call (318) 487-9506 or visit the association website at lqhba.com.